Check out an after market spoiler.
5-5-2013
Click here for Storm Damage! http://www.youtube.com/watch?v=5ZHzzKDndKw
Big news from the Storm Damage/Hurricane Force camp! The original Storm Damage, aka Taurus 3, has been SOLD and will be restored as Taurus and turned into a museum piece pending Jack Wilman's approval. Tim and Steve have had great seasons so far and head into a CRAZY summer schedule, so be sure to check out the Schedule page for the latest dates, with more to be added soon.
Other projects include Tim's son, CJ, getting behind the wheel of the original Storm Damage mud truck (restoration pics in progress and coming soon), and a new ride truck being built. There are also plans to work on a tube frame hill and hole mud truck in the future. Enjoy the video above from Storm Damage earlier this year, and look for more updates soon.
1-7-2013
Tim and Steven started the 2013 Monster Jam season in Tulsa, OK at the BOK Center. Both Storm Damage and Hurricane Force had strong runs each night, including a huge wheelie by Steven in Hurricane Force. Above you will see two videos of Tim and Steven doing their best donuts. Enjoy!
9-24-2012
It has been insane for Tim's tree business, and in a good way! Tim's gotten a chance to drive the truck some, and Steven has shown definite improvement behind the wheel, especially after getting a new seat. More importantly though, we bring you a letter from a fan today:
"Hello! My five year old son watched you last year in Winchester VA and has been a big fan of yours since! I'm writing just to let you know that he tells us every day that when i vote for President I should vote for Storm Damage! He's very enthusiastic about his decision on this and informs everyone that this is who should be president! We just wanted you to know we'd love to see you back in Winchester! You've got fans here!! Kristin Young"
Thank you Kristin; the letters mean the world to us!
6-19-2012
Tim and Steve would like to thank all of our fans that came out to see us in East Rutherford at our display before the show. Although we weren't in competition, we had a great time and enjoyed being part of an awesome show!
6-12-2012
Tim and Steve took Storm Damage and Hurricane Force to Lasalle, Illinois and made a ton of new fans. The weekend belonged to Steve and Hurricane Force, who won the wheelie contest both nights along racing win Saturday making him the Kill of the Hill for saturday. Storm Damage and Hurricane Force have been stepping it up lately, and Steve was happy to run aggressive.
"I would like to thank my family and the Mente family, my friends, and sponsors for their support. Really looking forward to going back to Lasalle in 2013!"
Check our schedule for new dates, enjoy the in-cab footage from this weekend, and stay tuned for much more from the team.
5-7-2012
Tim and crew have been working long and hard on both monster trucks as well as some tree removal at the day job. Montreal went well, with Steven picking up a nice freestyle save and Tim getting a great slap wheelie
.
Check our summer schedule for more events soon!
4-4-2012

We at Storm Damage Racing would like to officially welcome Alto Red Eagle as a sponsor! It's great to have their support moving forward, and as we gear up for the summer, we're excited to get going. Check out our updated schedule!
2-28-2012
A Storm and a Hurricane rolled into Providence, and it was a great weekend for the team. Steven rolled Hurricane Force but won his first two wheelie contests of the year, really proving that he is getting comfortable behind the wheel and not afraid to stab the throttle and be aggressive. Tim showed off in Storm Damage as well, with a semifinal racing appearance and solid runs all around in the wheelie contest and freestyle. We will keep you posted on future shows; for now, check our Schedule page!
2-16-2012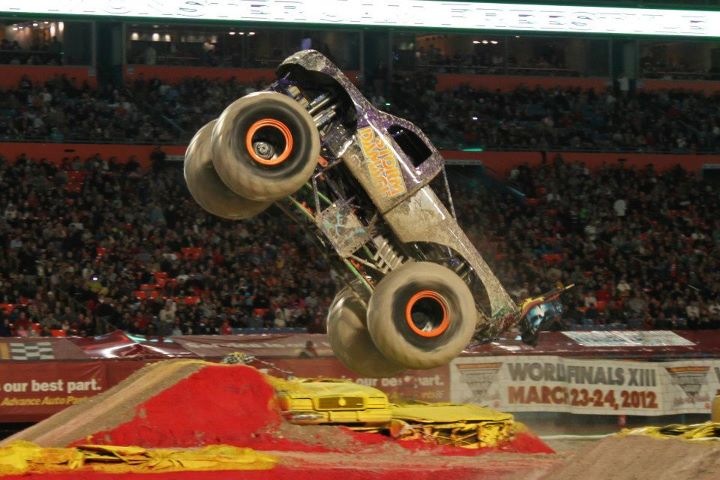 Picture by Andrew Fitzpatrick. A storm rolled into Miami, as did Storm Damage! With rain soaking the muddy track in Miami, Tim did his best to keep the truck under control and ended up putting in a solid full run in freestyle, earning a 12 as the second truck out in freestyle. Next, he looks to Providence, Rhode Island after a week to get everything repaired. Stay tuned for updates.
2-7-2012
It was a tough weekend in Tampa for Tim, Steve, and Team Flirtin' With Disaster Racing. After a strong start in racing, Hurricane Force bobbled in a turn on the Anaheim-style course and lost out. Storm Damage had some mechanical issues and returned just in time for freestyle. After watching a strong start with a couple of nice sky wheelies from Hurricane Force that ended early due to a broken tie rod, Mente was on a mission. Despite getting shut off and still experiencing a few problems, Storm Damage was able to finish a solid run and complete the weekend. Next up, it will be a Storm Damage-only event in Miami, Florida. Stay tuned for updates. Above is a video a great fan took at one of our displays. We appreciate the support!
1-29-2012
It was a long and grueling weekend in Hidalgo for Steve and Tim! With five shows in three days, it was hard on trucks and drivers, but the team powered through it and put in solid runs throughout. If you have photos of Storm Damage and Hurricane force, please send them to rhaught@allmonster.com. Thanks for your support of Team Storm Damage and Hurricane Force!
1-19-2012
San Antonio kicked off the 2012 season for the Storm Damage and Hurricane Force racing team, and it was a wild one for both the all-new Storm Damage and the revamped Hurricane force!
Hurricane Force put in a solid effort on night one of two in freestyle, but Mente in Storm Damage had some major breakage. After staying up nearly all night getting things fixed, it was back to night two, where things improved a bit. Each truck made their freestyle passes and both Mente and Hurricane Force's Steve Thompson learned a lot. "We are both basically driving all new trucks," said Thompson. "Things won't be perfect right away, and we have already made some adjustments that I think will help us a lot heading into Hidalgo." Indeed, Hidalgo is a five-show weekend, which is brutal on both trucks and drivers. Storm Damage and Hurricane force are up to the challenge, though. "We're gonna get things going at the display today, then rock it all weekend and make sure they remember us," said Mente. Stay tuned for more!
1-3-2012
Here is a first look at the new Storm Damage! More to come.
12-12-2011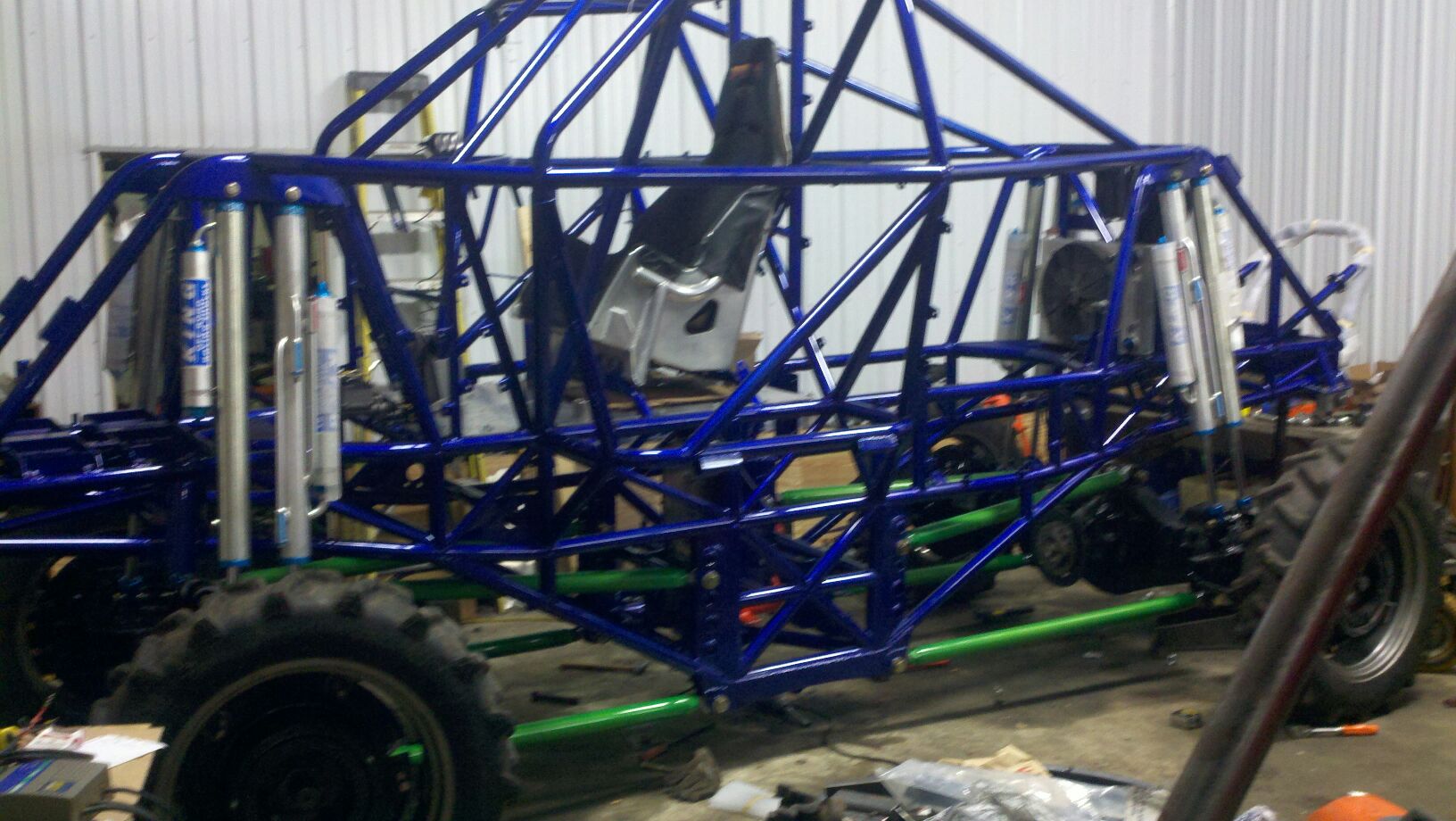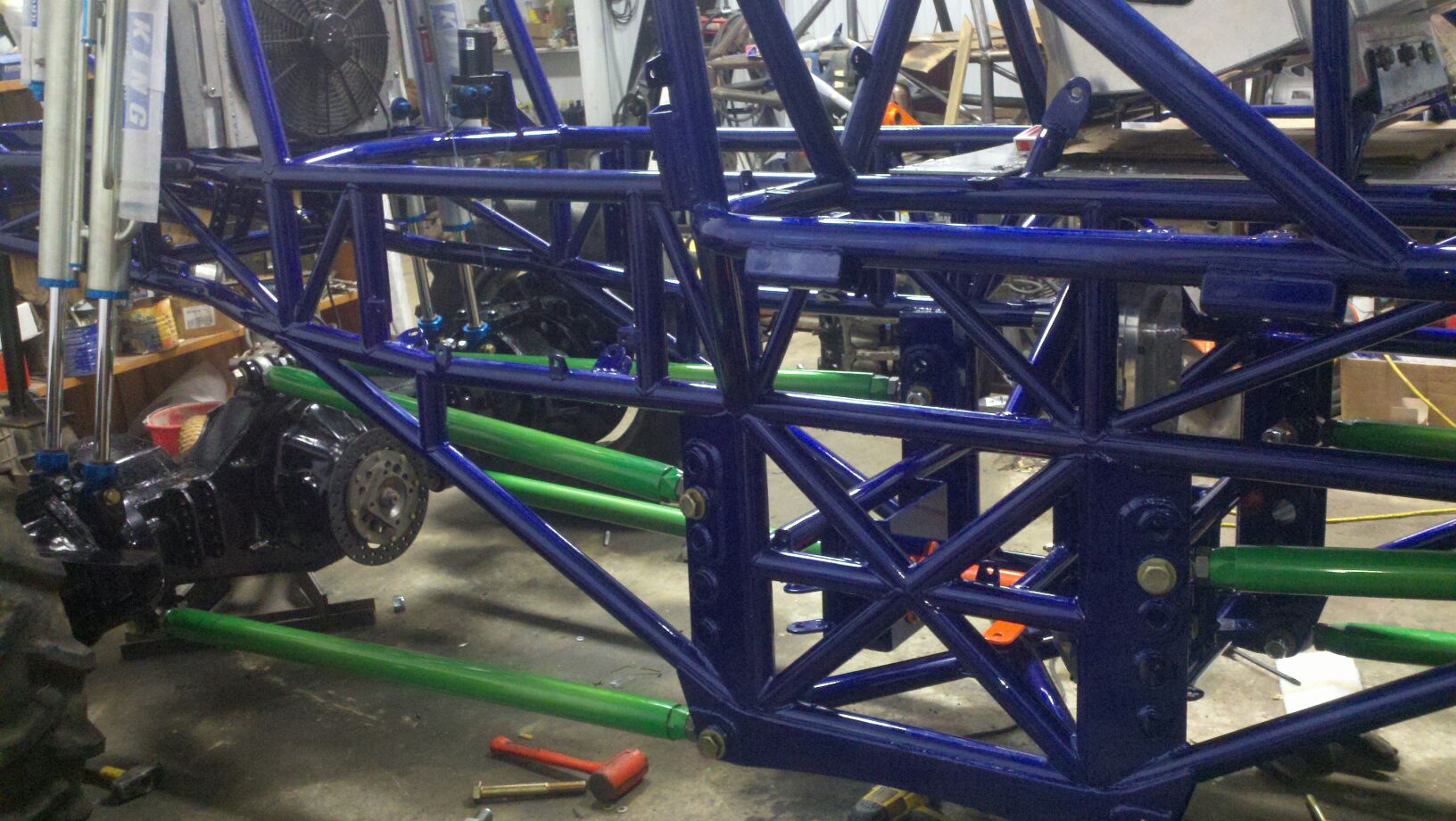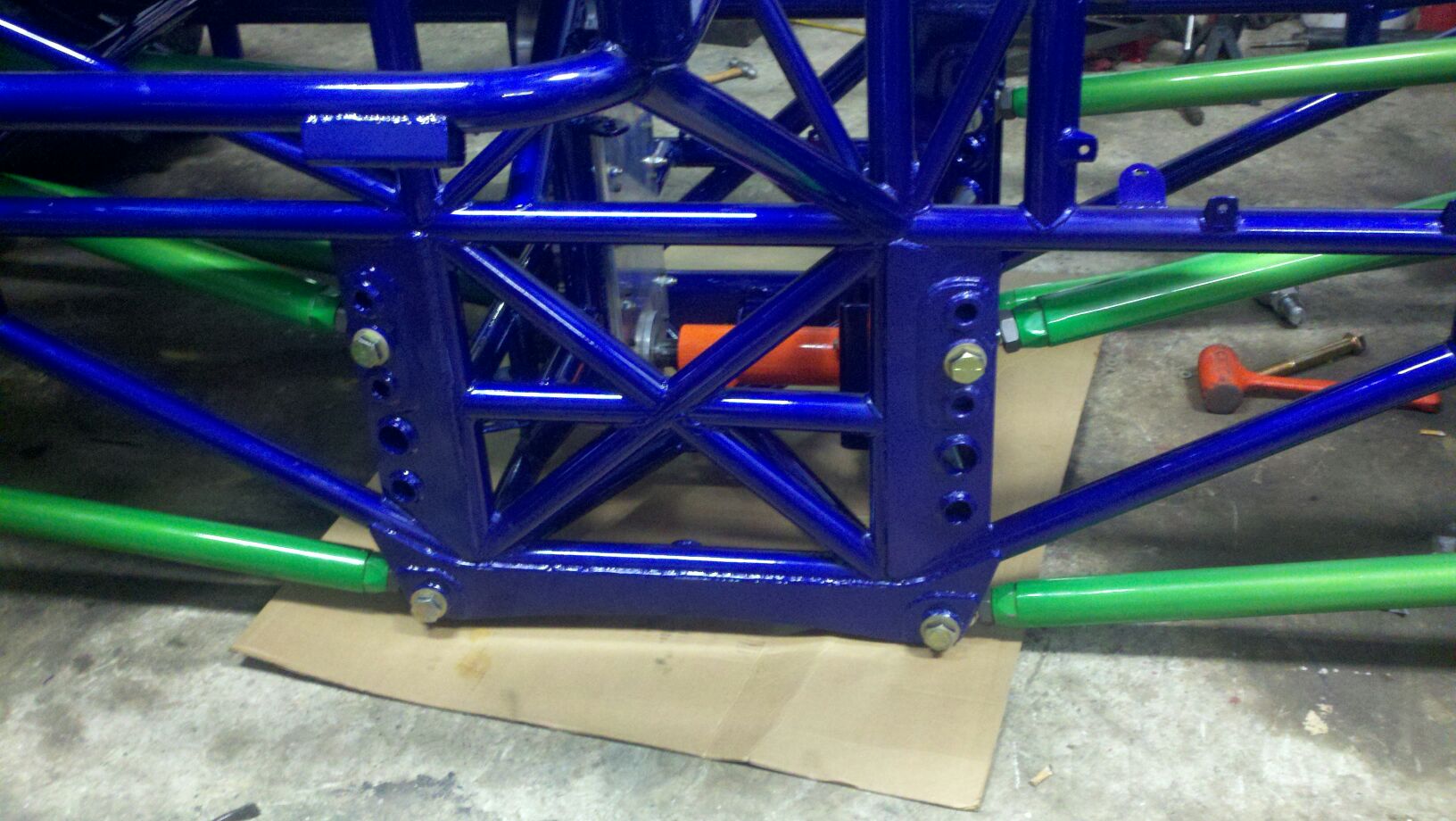 11-18-2011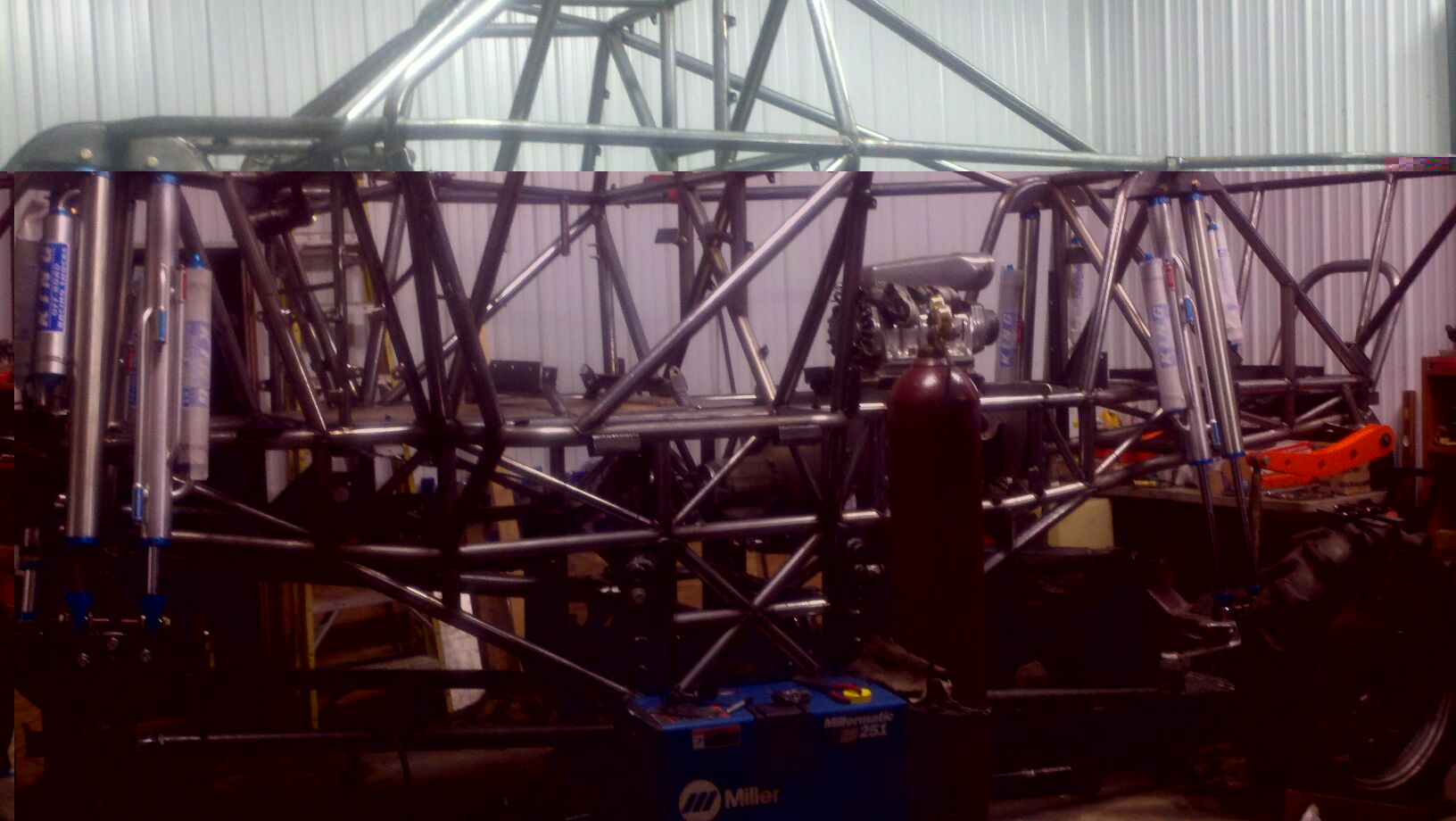 Another picture of the new chassis. Also check out our Facebook pages Storm Damageand Hurricane Force.
10-17-2011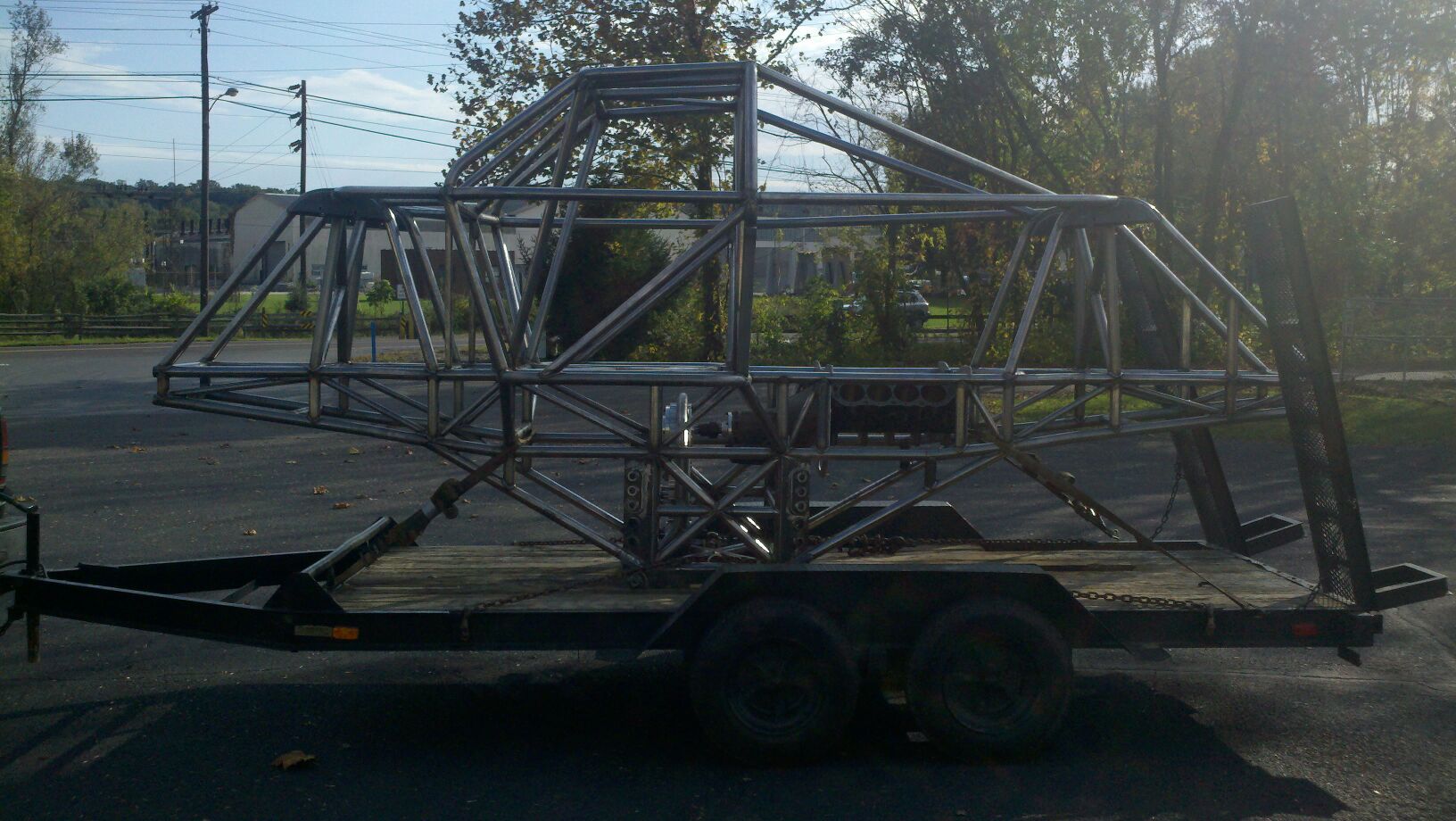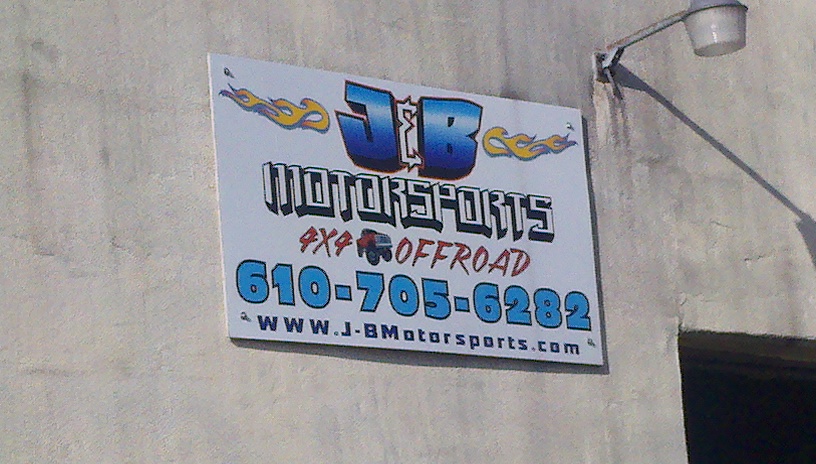 Another picture of the new chassis. Want to give a big thank you to the guys over at J and B Motorsports for building us a great chassis.
10-13-2011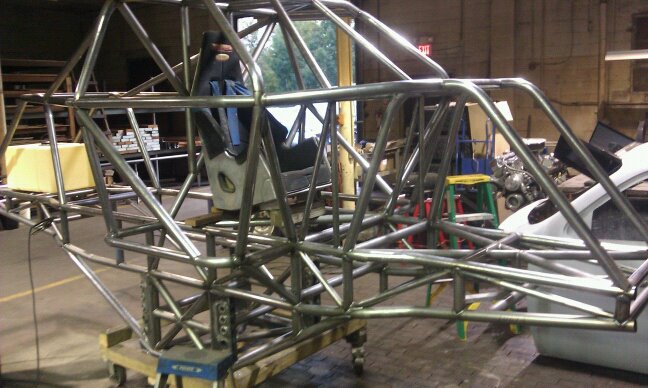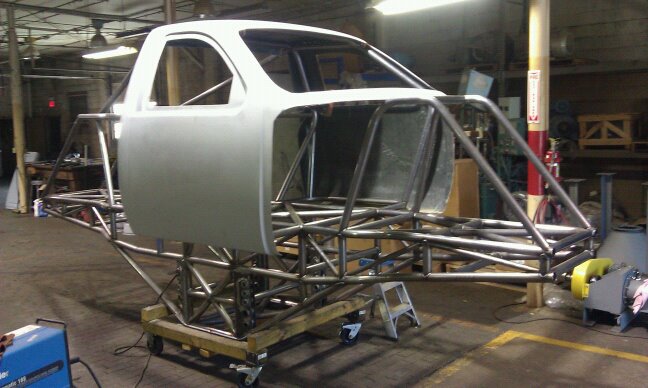 New chassis teasers.
10-04-2011
New videos posted in the videos section.
9-23-2011
The team is on its way to J&B to fix the roll cage damage (see video below) on Hurricane Force from last weekend, then heading out to Vermonster 4x4 for what's looking like a mud fest event.
Would you like to own Taurus 3, aka Hurricane Force? It's yours for $40,000 (no engine or transmission), or for $60,000, you can own that along with the original David Morris Equalizer (skeleton chassis) and a 53-foot hauler which is set up for two trucks already. Please use our Contact page for more information. Thank you!
9-22-2011
This is what happens when you race the boss:
9-14-2011
Tim and Steve just had a great weekend in Epping, and to celebrate, we release the new site for both Storm Damage and Hurricane Force! More to come; have a look around for now.
6-27-2011
Check out video of Tim's freestyle from Hyslip Farms, and also our updated schedule!
6-6-2011
Tim took Storm Damage to Hyslip Farms' mud bog event and did a car crush/mini-freestyle that went over well, and brought some big cheers from the crowd. After 8-10 great hits on the cars and a cyclone donut, the yoke in the drive shaft broke, ending things for the day.
"I had mud on my wheelie bar, so I know that I did a good run," said Mente with a laugh. "It was great being here with all of the guys I grew up with mud-bogging; this is where I got started and it was really nice being back here with everyone."
Tim's schedule will be updated on both Storm Damage and Hurricane Force's sites soon!
6-3-2011
We are currently in the process of a new site design from the guys over at AllMonster.com; stay tuned! This weekend Tim takes Storm Damage to the Hyslip Farms Mud Bog for a car crush.