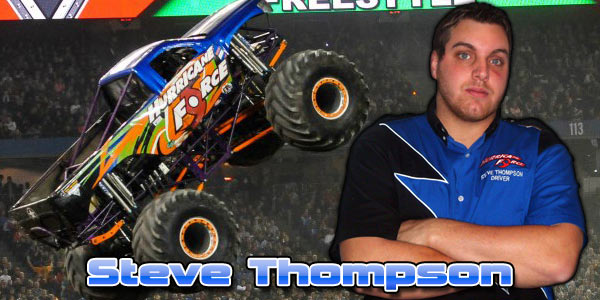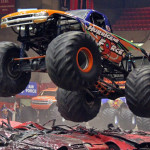 Steve Thompson gets to live his dream every day, and he worked hard to earn the right to do so. Coming up from the ranks of a crewman to a driver is no easy task, but Thompson impressed owner Tim Mente enough crewing on his Storm Damage truck that when it came time to expand the team to two trucks, Hurricane Force was all Steve's.
Thompson started working at a monster truck neighbor's shop when he was 14 and was driving by age 19, living the dream and goal he'd worked so hard for early in life. The childhood dream became a reality. "All I wanted to do besides work on trucks was race," says Steve. "I did some other things and was a black belt in karate, but I decided to try and kick some butt on the race track!"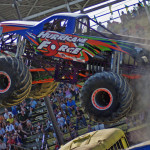 Once Thompson got the opportunity, he had the fortune of learning from Mente and the rest of his peers. It was important to take care of his equipment, as wrecking and breaking parts meant both more work for him and a bad impression on the owner and sponsors. With a shoestring budget, Thompson still goes out and puts on a fantastic show, the mark of a true driver and professional. On behalf of Storm Damage Racing, Thompson accepted the 2010 MTRA Most Improved Team award, and it meant a lot to him to be recognized.
"It's a lot of pressure driving, but I look forward to putting on the best show for the fans that I can," says Steve. "I wouldn't have it any other way."